Eliminate Self-Criticism Right Now!
Eliminate Self-Criticism Right Now!
Get Your Free Copy Today!
Do you ever hear a voice in your head that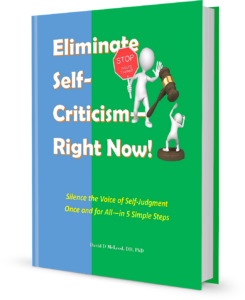 seems to have nothing but negative things to say about you?
puts you down regardless of how you show up?
constantly nags you because you're never quite good enough in any situation?
If you'd like to get control of that voice and learn how to silence it once and for all, then you might like to check out my new eBook, entitled
Eliminate Self-Criticism Right Now!
This little eBook will teach you a simple 5-step process for not only quieting that critical voice in your head, but transforming its message into something that can actually support you and make your life better! It's a simple, easy-to-learn process that can give you very quick results.
Normally, I sell this eBook for $9.95, but for a limited time, you can get your copy absolutely free! So, fill out the form below, and I'll send my eBook as a downloadable PDF attachment directly to your email address!