How To Be Totally Awesome!
How To Be Totally Awesome!
Get Your Free Copy Today!
Everybody loves to be awesome, right?! Well, how would you like to be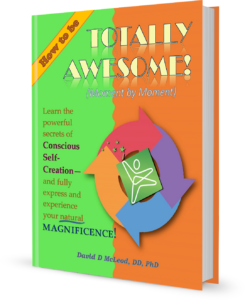 totally awesome? All the time, moment by moment? Well, you can start doing that right now—today—if you follow the simple steps in my new eBook, called
How To Be Totally Awesome!
In this eBook, you will learn about:
The four steps to Conscious Self-Creation.
The two most powerful words in the Universe and how to make them work for you.
The right way to use affirmations to manifest what you want in your life.
Fully experiencing and feeling your awesomeness and bringing it more fully into the world.
Normally, I sell this eBook for $12.95, but for a limited time, you can get your copy absolutely free! So, fill out the form below, and I'll send my eBook as a downloadable PDF attachment directly to your email address!