Rebuilding Integrity
Rebuilding Integrity
Get Your Free Copy Today!
When asked to name their top ten personal values, most people include Integrity near the top of their list.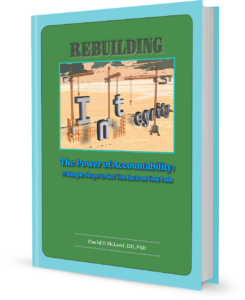 by not talking about it, I think we just make our own lives more miserable.
Let me tell you a little about my new eBook entitled
Rebuilding Integrity
In this eBook, I teach you
what fear really is;
how your perceived needs contribute to your fears;
the difference between real and imaginary fears;
the relationship between risk and impact and how these affect your level of fear;
and a whole lot more!
But that's not all! I also share with you
Four Powerful Steps for Overcoming Fear!
Normally, I sell this eBook for $12.95, but for a limited time, you can get your copy absolutely free! So, fill out the form below, and I'll send my eBook as a downloadable PDF attachment directly to your email address!